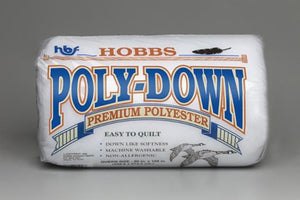 Polydown Plus Batting from Hobbs
Sale price Price $8.00 Regular price
Tax included.
Shipping
is flat rate NZ wide.
Hobbs Poly-Down Batting is made with very fine, white, denier polyester which enables this batting to provide a soft feel and lovely drape. Exceptional for hand quilting, it is also prized by machine quilters for its wonderful loft which accentuates quilting details.

Hobbs Poly-Down Batting is bonded to provide added durability and resist bearding and migration, and it's machine-washable, non-allergenic and maintains its loft.
Items made with Hobbs Poly-Down Batting may be machine washed – we recommend all quilts be washed using a delicate cycle and cool water, with no heavy agitation or spinning.
Use Hobbs Polydown plus if you want your quilts to be soft and puffy whilst still being durable.
Sold off the roll in ½ metre increments this batting is 108 inches wide.
Sold by the ½ Metre - added to cart in increments of ½ metre and will be cut continuously so adding 1 = 1/2 mete, 2 will be = to 1 metre, 3 = 1.5 metres....