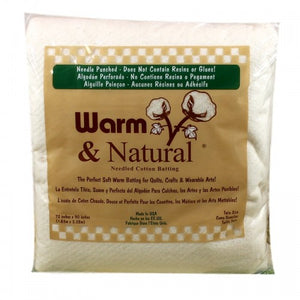 TWIN Size Warm and Natural Batting
Sale price Price $41.00 Regular price
Tax included.
Shipping
is flat rate NZ wide.
Warm & Natural is the preferred batting among quilters world-wide!
We have four pre-cut sizes of batting at Present rather than by the metre, in Warm and Natural 
CRIB - 45" X 60" (1.14m X 1.52m)
TWIN - 72" X 90" (1.83m x 2.28m)
FULL - 90" X 96"  (2.28m x 2.44m)
QUEEN - 90" X 108" (2.28m x 2.74m)
Warm & Natural is the finest needle-punched cotton batting! Only 15% of all cotton grown in the USA is the proper length, thickness and color. Out of this 15%, only 5% is clean enough for Warm & Natural! This soft, natural cotton has never been washed or bleached with harsh chemicals. It's kinder to the environment and kinder to your batting. The cotton undergoes a mechanical cleaning process removing all of the seeds, seed coats, along with the majority of leaf and stem remnants. The remaining tiny plant particles lend a special look to crafts like no other and won't harm your quilt.
Quilt or tie up to 10" apart! Quilt Warm & Natural right out of the package, as pre-washing is not necessary. Once quilted, machine wash and dry your finished quilt in cold water. 3% shrinkage can be expected in the first wash with cold water. To achieve an antique puckered look use warm water for 5% shrinkage. Warm & Natural won't distort when hanging, hooping or when used in quilt frames. It can be used for both batting and as an exterior craft fabric to create stuffed snowmen and rabbits.