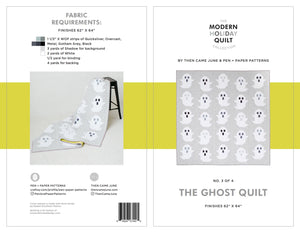 The Ghost Quilt Pattern - Pen & Paper/ Then Came June
Sale price Price $11.00 Regular price
Tax included.
Shipping
is flat rate NZ wide.
The Ghost Quilt - Pen & Paper Patterns/ Then Came June
Modern Holiday Collection
The Ghost Pattern is part of The Modern Holiday Quilt Collection. The pattern is a cute spooky quilt pattern perfect for Halloween. The ghosts are offset and their tails change direction making it feel like they are floating around in a cool October sky. The quilt measures 62" x 64" and is block based and beginner friendly. Material Requirement are on Image 2.
This pattern requires beginner quilting knowledge. The pattern assumes quilter has knowledge of basic piecing and can use consistent 1/4" seam allowances.
The pattern requires yardage.
Backing requirement needed is 4 yards.
In Meghan's own words
"One day last fall my son came home from preschool with an adorable little white ghost. The ghost was cut out of white craft paper, had 2 eyes and one rounded mouth and a curved little tail. It looked like it was surprised or saying "BOO!". The second I saw that, I was like DING DING DING. I am going to make a ghost pattern.
I played around with a few different ideas and Lindsey helped me streamline the actual construction. Less seams = less work = happier people."
📸 Then Came June