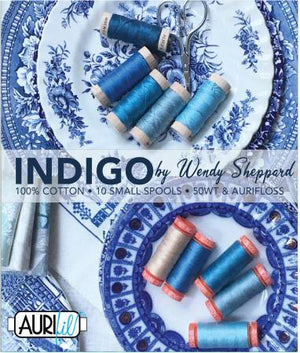 Aurifil Cotton Floss Indigo Boxed Set - Thread 10 x Small Spools
Sale price Price $54.00 Regular price
Tax included.
Shipping
is flat rate NZ wide.
Drawing inspiration from the colors of her collection of blue transferware, Wendy Sheppard's Indigo includes 5 spools each of 50wt and Aurifloss so that makers will have everything needed for regular sewing and handstitching projects. Wendy uses 50wt for piecing and quilting her Quilts, as well as for hand appliqué. It was love at first sight when Wendy discovered Aurifloss, which she uses for cross-stitching, smocking, and hand embroidery. The legendary minimal lint feature which goes for all of Aurifil's threads, including the embroidery floss, has been a true game changer in Wendy's needle-and-thread pursuits.

There is one spool of each of the following colors:
- 50wt: 4140, 2815, 5008, 2805, 2310
- Floss: 4644, 4140, 2815, 5008, 2805


Color: Assorted
Made of: Cotton
Use: Thread Collection
Size: Assorted
Included: 10 Spools

 

Seaside Blues by Susan Ache
Our favourite cross stitch queen, Susan Ache, has outdone herself with Seaside Blues. A wonderfully curated set of beachy hues, this box is destined to inspire daydreams of lazy afternoons spent on the coast, waves crashing on the shore, sun shining high above. Of course Susan fashioned the perfect mini masterpiece to showcase each and every one of the 10 cool colours. 

There is one spool of each of the following colors: 5014, 5005, 2886, 5006, 2830, 2810, 1148, 2860, 2805, 2880