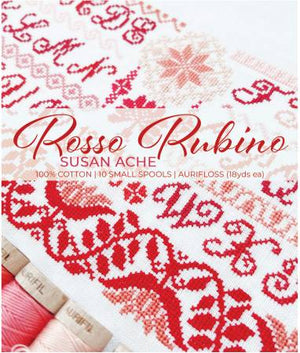 Aurifil Cotton Floss Red Boxed Set - Thread 10 x Small Spools
Sale price Price $54.00 Regular price
Tax included.
Shipping
is flat rate NZ wide.
Rosso Rubino by Susan Ache Cotton Floss 10 Small Spools
Susan Ache's love affair with the color red began with one Quaker cross stitch sampler. It called for shades of blue, but Susan's mind instantly changed it to red and she was off and running. From there, it wasn't a matter of what to choose for one sampler, it was narrowing down all the glorious shades of red to use for each and every one. The result is a growing wall of mini masterpieces, lovingly showcased and widely revered.

Rosso Rubino is Susan's tribute to this wall of red samplers. Her gift to cross stitchers worldwide, ready to start on their own stitchy journeys! Her collection comes with a free cross stitch sampler to get all levels of stitchers started.


Color: Reds
Made of: Cotton
Use: Thread Collection
Includes: 10 Small Spools of Cotton Floss on Wooden spools in colors
5002 6729 2220 2270 2435 2420 2255 2277 2230 & 2415