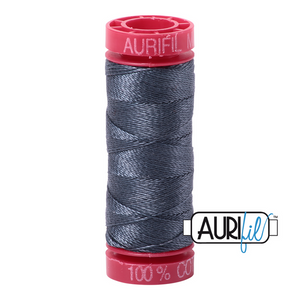 Medium Grey Aurifil Cotton Thread (1158)
Sale price Price $6.00 Regular price
Tax included.
Shipping
is flat rate NZ wide.
Aurifil 12Wt 100% Cotton -  Medium Grey (1158)
50mt (54yds) spool.
This is the thickest of the Aurifil range and comes on a red spool. 
• Hand Appliqué - Use 12wt for hand appliqué, Buttonhole stitch for a primitive look and for Blanket Stitch appliqué.
• Hand Embroidery - Used as a replacement for stranded & pearl embroidery threads for the stitchery blocks.
• Hand quilting - Achieve beautiful results using the 'Big Stitch' or 'Utility Stitch' with a larger eyelet needle and for
  Sashiko type work
• Cross Stitch - 12wt is suitable for Backstitching or Cross-stitching in 1 strand, giving more definition to your work.
• Embellishment - Use 12wt to add embroidery stitches as embellishment on a quilt surface.
• Lace - Great for use on Bobbin Lace Gimp
• Machine Work - The 12wt range accentuates the stitching and gives your quilt and sewing projects that 'hand'
  stitched look.