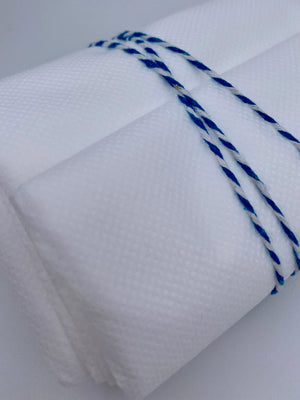 White Spun Bond
Sale price Price $4.00 Regular price
Tax included.
Shipping
is flat rate NZ wide.
White 40gsm Spun Bond Polypropylene (SBPP) 
180cm wide and sold per metre.
Also great for interfacing or embroidery machine stabiliser.
Recommended as a filter material in 3 layer masks by WHO:
Fabric masks need to be made of a weave that is tight enough to be effective at containing droplets, while still allowing you to breathe easily. The World Health Organization (WHO) suggests they should ideally have 3 layers:
The layer closest to your face should easily absorb droplets from exhaled breath. For example, a woven or knit cotton fabric. Use a light colour so you can tell when it is soiled or wet. 
The middle layer acts as a filter. It goes in a pocket between the inner and outer layers. It should be made of fabric that repels droplets and moisture. Suitable fabrics include polypropylene.
The outer layer should repel droplets and moisture. Suitable fabrics include synthetic or polyester mixes. 
Disclaimer:  Although the SBPP is made in a clean room and is used as a component of 3 layer facemask filter media SBPP on its own has no tangible filtration effect for facemasks.