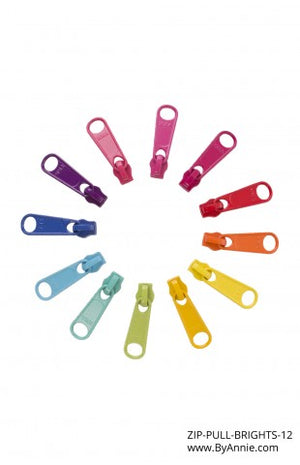 Zipper Pull Set Bright (12) - by Annie
Sale price Price $11.00 Regular price
Tax included.
Shipping
is flat rate NZ wide.
ZIPPER PULL SET - BRIGHTS (12)

Perfect for use with brightly-colored fabrics, this set includes colors that work well together. They will add BRIGHTNESS to any of your projects! Adding a zipper pull to leftover zipper tape gives you a new zipper out of supposed waste. You can also create a double-slide zipper from a single-slide zipper.

The colors included are:
ZIPPULL-190  Buttercup

ZIPPULL-195  Dandelion

ZIPPULL-200  Apple Green

ZIPPULL-212  Turquoise

ZIPPULL-214  Parrot Blue

ZIPPULL-215  Blastoff Blue

ZIPPULL-245  Tahiti

ZIPPULL-250  Lipstick

ZIPPULL-252  Raspberry

ZIPPULL-255  Crazy Plum

ZIPPULL-260  Atom Red

ZIPPULL-287  Pumpkin
Most of Annie's purse, tote, and laptop carrier patterns call for zippers ranging from 5" to 24" in length. For easier inventory control, we have chosen to stock a few basic sizes ranging from 24" to 4 yards.

It is actually easier to use zippers longer than needed as you can avoid the stops at each end, thus leaving you with remaining zipper tape. You can now use these extra pulls with the extra zipper tape! 
All of Annie's patterns include complete instructions for installing zippers quickly and easily. We promise that these are the easiest zippers you will ever put into a project!